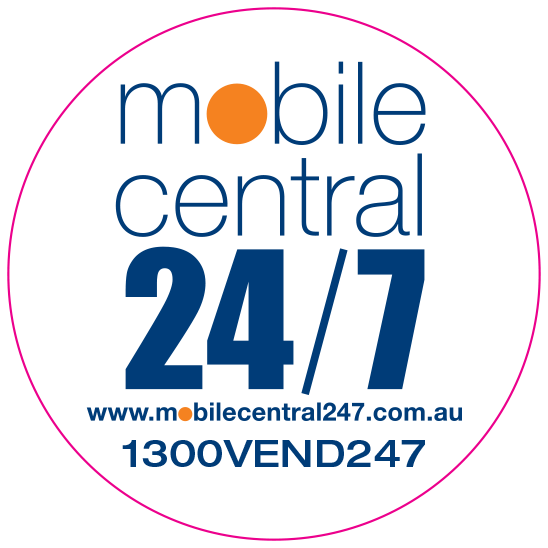 Vending Machines
Ever been on a business trip only to realise you've forgotten your mobile charger? Or arrived at an important event only to realise your battery is completely flat?
We've all been there. In fact, Australia has a huge market of time-poor (and forgetful) consumers looking for an easy, stress-free way to buy mobile accessories on the go.
Tap into this growing market with Mobile Central 24/7, Australia's leading vending machine provider of mobile accessories.
How it works – Tap into the forgetful market
It's a beautifully simple concept. Mobile Central 24/7 provides a range of mobile accessories, such as chargers, power banks or earphones, for leading brands. The completely cashless machines let consumers buy the accessories they need at the touch of a button. No hunting around shopping centres for the right phone retailers.
By hosting a Mobile Central 24/7 vending machine, not only are you making life easier for your customers – you're generating revenue for your business. You receive commission, without the hassle of set-up, maintenance or hosting fees. How easy is that!
Hosting a MobileCentral 24/7 vending machine in a nutshell
Receive commission from sales
Zero cost, zero set-up, zero maintenance
Completely cashless payment system for the ultimate in convenience
Branded vending machines to drive awareness
Customised stock to meet your customers' needs
Reap the benefits of happy customers!
Find MobileCentral 24/7 in all the right places
Our vending machines are found in locations where demand for mobile accessories is the greatest – airports, shopping malls, convenience stores, hotels, tourist spots and more. Does your site need a MobileCentral 24/7 vending machine? Speak to us about hosting today!
Boost sales with customised vending machines
Customise your vending machine to suit your business and customers. Create eye-catching graphics to attract customers. Stock the machine with products you know your customers are looking for. With MobileCentral 24/7, the sky's the limit!
Increase revenue by hosting a Mobile Central 24/7 vending machine. Contact us on 1300 VEND 247 or email sales@mobilecentral247.com.au for an obligation-free chat.